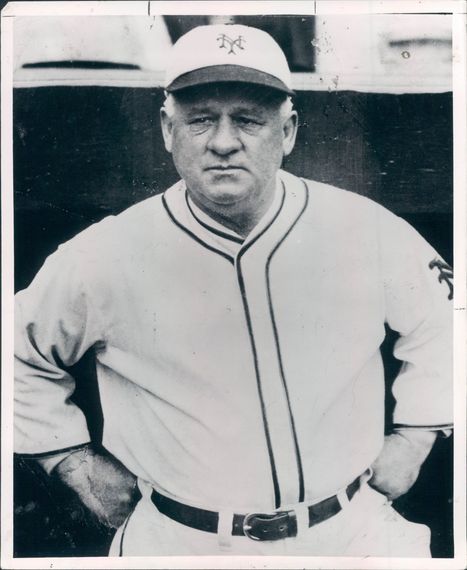 sports.mearsonline.auctions.com
Frankly, unlike my five sons and husband, I'm not an avid sports fan. So it didn't impact me much when I learned that John McGraw was the first manager to call pitches from the dugout and
first to use relief pitching
. And I really wasn't too interested in his having a sharp eye for recognizing talent. What DID impress me was that through able and adroit insight into the psyches of his players, he was able to take the womanizers, the drunks, the disabled and the neurotics and inspire them to perform and be the best they could be.
John McGraw was a scrappy kid from Truxton, New York who began his professional career in 1891 and soon after was absorbed into the National League. His playing career spanned 17 seasons, nine with the Baltimore Orioles where his Napoleonic shenanigans soon became commonplace.
John McGraw was notorious for stealing bases and doing anything he could do to obstruct base runners while the lone umpire kept his eye on the flight of the ball. Some say his blocking and tripping led to the stationing of additional umpires on the base paths. Certainly his proclivity toward colorful action enlivened many a humdrum midseason game.
An iconoclastic leader, he refused to be traded to Brooklyn and ended up staying behind to manage the leftover Orioles. In 1902, he jumped ship and
signed on as manager with the New York Giants
-- a position he would hold for 31 years.
He was arrogant, abrasive, swaggering and daring. As
BaseballLibrary.com
described him, "He had a genius for inciting crowds and the Giants quickly became the most despised team in the league." It probably didn't help that in 1906 McGraw, displaying the utmost nerve, had "Champions of the World" on the team's jerseys -- right across the front.
But there is something about the spectacle of a hard-nosed coach breaking a deaf mute out of his isolation that has the power in our culture to get everyone's attention and keep it. It's a story that forgives arrogance and abrasiveness. The fact that how John McGraw did this changed how baseball is played forever may not even be the main reason why the story gets retold again and again.
John McGraw recognized talent and nourished it.
As he said
, "Learn to know every man under you, get under his skin, know his faults. Then cater to him -- with kindness or roughness as his case may demand."
sabr.org
Luther Taylor was a deaf mute, cruelly nicknamed "Dummy." He was also a New York Giants pitcher who lost a lot of games due to his inability to communicate on the field with his teammates.
John McGraw was under a lot of pressure to trade Luther. The pressure came not just from the team's owners, but from the fans and media as well. Rather than give in, John McGraw instinctively searched for a way to utilize Luther's skills. Being an astute observer of human nature and one who sort of made it up as he went along, McGraw instituted a rigid requirement: every team member had to learn American Sign Language so they could communicate with "Dummy." Luther soon became an integral part of the team.
Luther Taylor was one of the main reasons the New York Giants won the pennants in
1904 and 1905
and the only deaf pitcher to succeed in the major leagues in baseball. And John McGraw is credited with much of Luther's success and, in addition, credited with the origin of the use of hand signals -- that are still employed in baseball to this day.
McGraw took a player's physical disability and turned it into a smart and sensible strength.
As we approach the closing of the 2015 major league baseball season, may we all re-dedicate ourselves to extending our boundaries, growing out our shadows, and stretching the circumferences of our comfort circles.
As John McGraw advised his players, "Get in front of those balls, you won't get hurt. That's what you've got a chest for."
-- This feed and its contents are the property of The Huffington Post, and use is subject to our terms. It may be used for personal consumption, but may not be distributed on a website.